I put out some feelers to see if there would be interest in a new flower I'd come up with... and there was!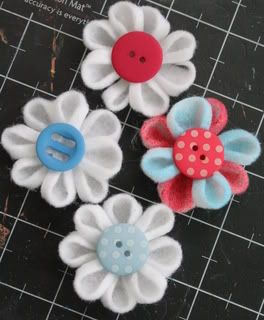 I call them "Loopy Felt Flowers" and they are super easy! And the best part is... no sewing required! So... here's what you need to make them:
A sheet of 8.5"x11" felt, a rotary paper cutter (if you have one, if not, scissors will suffice, but you'll need to do more work!), scissors, fabri-tac, and buttons, brads, pearls, or finishers or whatever you want to finish off the middle.
Step 1:
Cut the felt into 2"x2" squares.
Step 2:
Fold in the corners so they meet in the middle, like so. Make sure that you crease the outside folded edges so the fabric "remembers" them.
Step 3:
Step 4:
Apply a dab of glue in the middle where the corners meet.
Step 5:
Fold the corners back down and hold for a moment so that the Fabri-Tac can dry a little. Once it's set enough, you can let it dry the rest of the way without holding it down.
Each 2" strip will give you 4 squares. I recommend doing all 4 squares at once. By the time you finish the 4th square, the 1st is dry and ready for the next step!
Step 6:
Using your scissors, cut along the outside edge of the corner. The idea is to cut on each side of the "triangle" and meet at the corner.
When you're done, this is what it will look like:
Step 7:
Do the same for the remaining 3 sides, until your felt square looks like this:
Repeat this process with the remaining three flowers.
Step 8:
Apply another dab of Fabri-Tac to the center of one of the flowers, then set another flower over top of it, with the petals in an alternating direction.
Apply a dab of Fabri-Tac to the center to add a button, or poke a hole through the felt to stick on a decorative brad. What you do with it is up to you!
Additionally, you can also use Glimmer Mist to change the colors of the felt. I did this BEFORE I assembled to two layers together because I was using separate colors. But I'm sure if you want them the same color, you can apply the Glimmer Mist whenever you like. I think these will also ink well, though I've not tried it yet.
So there you go! That is how I make my loopy felt flowers! :)
Oh, and for the second set, I followed the same instructions, just using a 1"x1" square for the red felt. I don't recommend going much smaller than that as it was really difficult to keep the felt tacked down with the Fabri-Tac unless I held it until it was mostly dry.
Please let me know what you think or share your pages with me if you make these flowers! I'd really love to see how this design is being used. :)